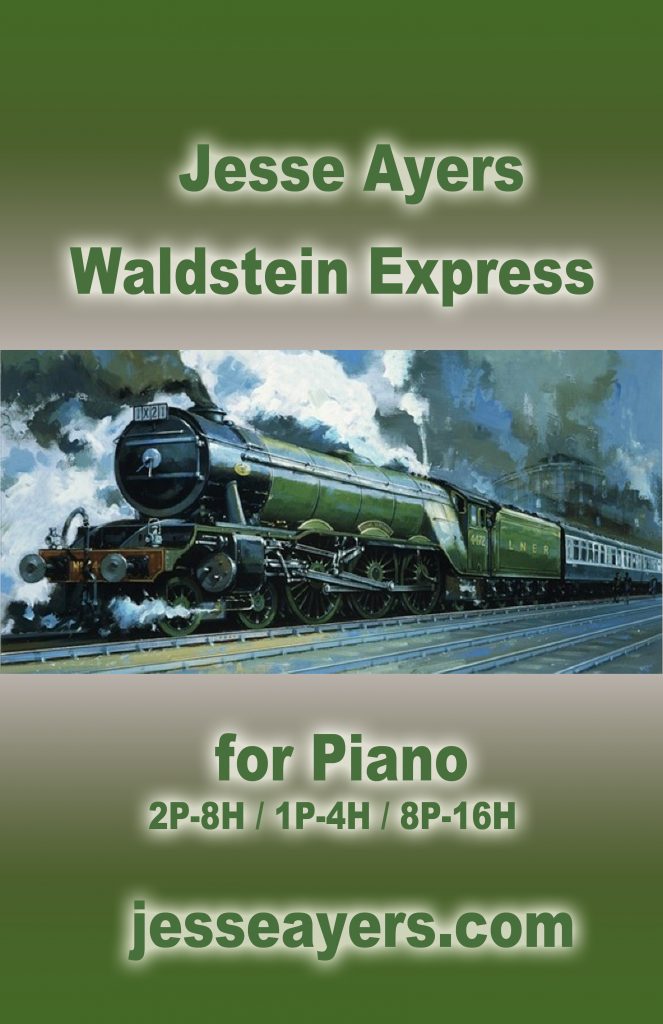 Minimalist Beethoven racing down the tracks.
2 pianos – 8 hands (original version)
1 piano – 4 hands
8 pianos – 16 hands
7 minutes

---
Excerpt of 8-hand version
---
Complete recording of 8-hand version
---
4-hand version, Brent Schloneger & Raqual Teare
16-hand version performed at Malone University Piano Extravaganza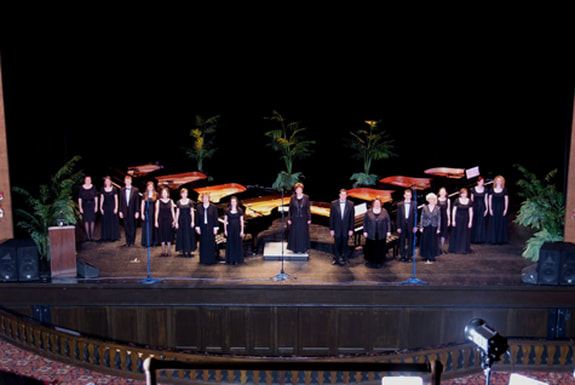 Ayers' Waldstein Express selected for Humor in Music festival at Otterbein University
Jesse Ayers' Waldstein Express for 2 pianos/8 hands has been selected for performance in Otterbein University's HUMOR IN MUSIC – HUMOROUS MUSIC FOR SERIOUS TIMES Festival. The work will be presented on Monday, March 31, 2014, at 8:00 p.m., in the Riley Auditorium of the Battelle Fine Arts Center.
---
Ayers' Waldstein Express performed at national composers' conference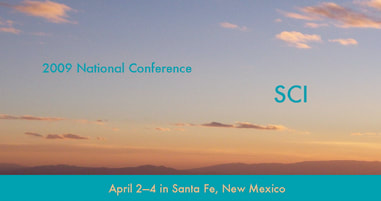 Composer Jesse Ayers' WALDSTEIN EXPRESS for 2-pianos 8-hands was performed at the national conference of the Society of Composers held in Santa Fe April 2009.
---
Program Notes
Minimalist Beethoven rushing down the tracks! Waldstein Express is an energetic fantasia based on the first movement of Beethoven's Sonata No. 21, (Op. 53) "Waldstein." Beethoven's opening two measures are repeated throughout as a ground bass á la Steve Reich, with other motivic fragments from Beethoven's original appearing in the upper voices along with freely composed material. Other cameo appearances include the bass line from the coda of the first movement Beethoven's Symphony No. 9, the opening of the C major Prelude from the Bach Well Tempered Clavier, a little Gershwin, and a little Jerry Lee Lewis. Other performances of this work include the 2009 Slobomir International Piano Competition in Bijeljina (Republic of Srpska) and the 2009 SCI National Conference in Santa Fe.
---
Other Works for Piano