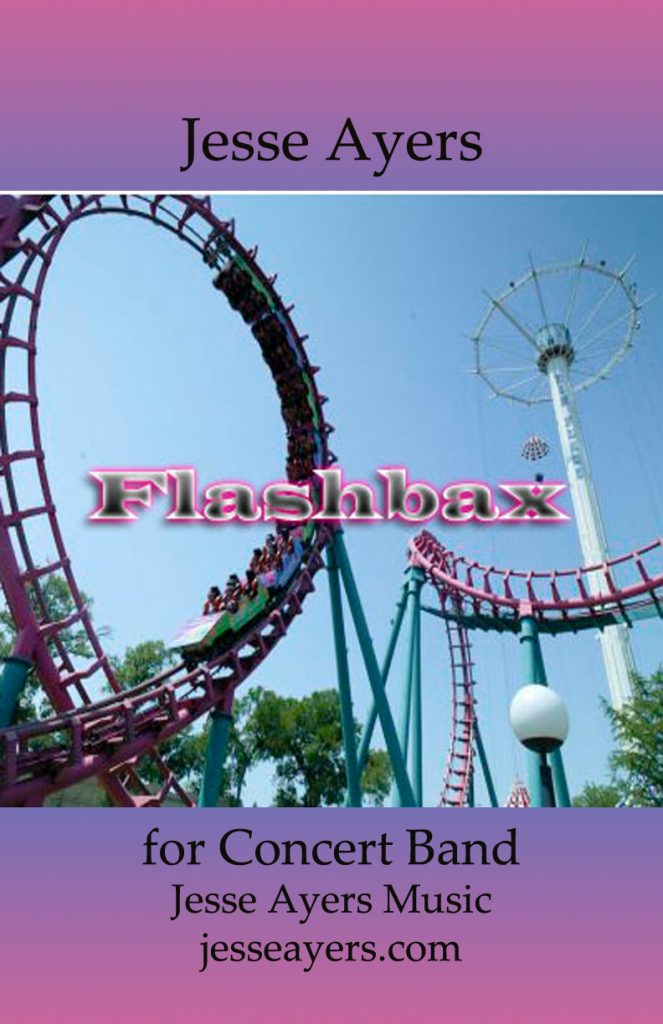 An energetic whirlwind of original music framing a series of echoes from the classic band literature.
Commissioned for the Ohio Private Colleges Honors Band
5.5 minutes. Grade 4.
SCROLL DOWN FOR RECORDINGS
A REDUCED PERCUSSION VERSION, TIMP +4, IS AVAILABLE (DIGITAL ONLY)
(The full percussion version requires timp + 6 or 7. However Part 6 is easy and can be covered by a non-percussionist. Part 5 can be covered by one player, but is scored for two.)
---
Digital Score & Parts — $75
Instant digital PDF downloads (downloaded from this website)
Pay, print, rehearse. No waiting for delivery.

ALSO INCLUDES THE FILES FOR THE REDUCED PERCUSSION VERSION
(Reduced percussion full score and the 4 reduced percussion parts.)
---
Reduced Percussion Version (Digital) — $25

For those who purchased the standard hardcopy edition and need the 'reduced percussion' parts.
Download includes only the 4 reduced percussion parts and a full score.
These parts are included at no extra charge in the "Digital Download" above.
---
Hardcopy Score & Parts — $125

Standard edition, full percussion
Traditional hardcopy band set, distributed by J.W. Pepper
(Extra scores by also be ordered at this link.)
---
Video: excerpt, Windworks of Washington
---
Video: Complete work, Windworks of Washington
---
Performed by:
University of Nebraska-Lincoln Wind Ensemble; Carolyn Barber, conducting
​WindWorks of Washington, Jeffrey Scott Doebler, conducing
Heidelberg University Symphonic Band; John Owen, conducting
Muskingum Valley Symphonic Winds; David Turell, conducting
Ohio Private Colleges OPCICA Honors Band; John Owen, conducting
Case Western University Symphonic Winds; Gary Ciepluch, conducting
Malone University Symphonic Band; Jesse Ayers, conducting
---
Program Notes
Flashbax (2011) was commissioned by the Ohio Private Colleges Instrumental Directors Association to celebrate the life of conductor-educator Dr. William Schlacks (1948-2009), and to commemorate the 25th anniversary of OPCICA, of which Dr. Schlacks was the founding president.

Those who knew Bill Schlacks say he was a man full of life and vibrancy, and that he especially liked concert band music that was fast and energetic. It was suggested music in this style would be a more suitable tribute to him than a slow elegy, so the composer has aimed toward music that is an up-tempo whirlwind of energy.

In addition, the composer has sought to honor Dr. Schlacks, OPCICA, and the world of concert bands, by creating original music around a series of reverberations from, or glimpses into, or memories of, the great band literature of the past (the flashbacks). The alert listener will catch a few notes here and a few notes there from a number of the "classic" band works—echoes, if you will, that reverberate ever in the musical memories of those who know and love the concert band literature.
---
Dr. William Schalcks (1948-2009)
Dr. William Schlacks was the founding president of the Ohio Private College Instrumental Conductors Association (OPCICA). He was Chair of the Department of Music and the Ruth Dorsey Neptune Distinguished Professor of Fine Arts at Muskingum University. He was the founding conductor of the Muskingum Valley Symphonic Winds, and conductor of the Muskingum College Wind Ensemble and the Aldersgate Choir of the New Concord United Methodist Church.

Dr. Schlacks received the Bachelor of Science in Education and Master of Music in Trumpet Performance degrees from Northern Illinois University and a Ph.D. in Music Education from the University of Miami (Florida). After his studies at Miami, he conducted the Wind Ensemble and was the coordinator of music education at Indiana University-Purdue University at Fort Wayne. During his tenure at IPFW he founded and conducted the Fort Wayne Area Community Band and received numerous awards for this endeavor including the Medal of Merit for Community Service from the City of Fort Wayne. He was a member of the Music Educators National Conference, Ohio Music Education Association, College Band Directors National Association, Phi Mu Alpha Sinfonia, and served as a member of the board of the Ohio Society for Music Teacher Education. He was Muskingum University's representative to the National Association of Schools of Music where he has served as the chair for the sessions for smaller units of music, a visiting evaluator, and as a consultant. He was also a past president of the Ohio Association of Music Schools and served on the board of the Ohio Coalition for Music Education. In 1995 he was named an Outstanding Educator by the Zanesville Chapter of Phi Delta Kappa and in April of 2005 was named the Ruth Dorsey Neptune Distinguished Professor in Fine Arts at Muskingum College.

Dr. Schlacks was a prolific and versatile composer. His composed for solo voice as well as an array of both vocal and instrumental ensembles.
---
Other Works for Band