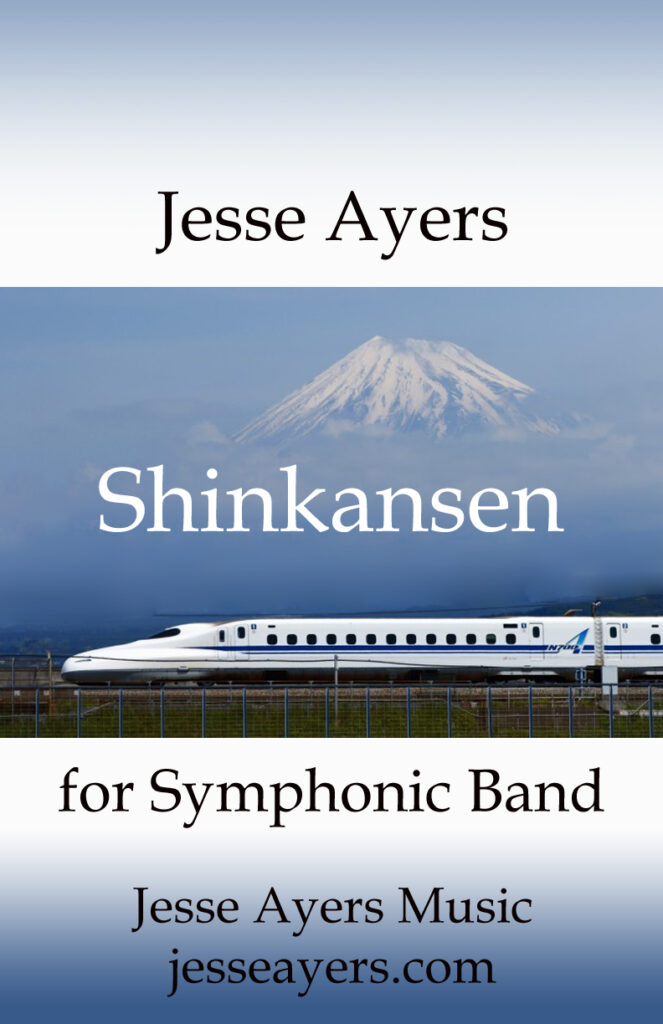 Exciting, high energy work.
The Japanese bullet train races through various musical landscapes.
8.5 minutes. Grade 5-6
SCROLL DOWN FOR RECORDING
---
Digital Score & Parts — $75
Instant digital PDF downloads (downloaded from this website)
Pay, print, rehearse. No waiting for delivery.
---
Hardcopy Score & Parts — $125
Traditional hardcopy band set, distributed by J.W. Pepper
(Extra scores by also be ordered at this link.)
---
Also available for Orchestra and for Piano 4-Hands
---
Excerpt
---
Complete recording
---
Composer Q & A at Ohio Music Teachers State Conference
(about original piano 4-hand score)
Performed by
• Valparaiso Univ. Chamber Concert Band, Jeffrey Scott Doebler, conducting
• Dayton Philharmonic Youth Orchestra; Patrick Reynolds, conducting
• Univ. of Wyoming Symphony Orchestra; M. Griffith, conducting
• Pasadena Philharmonic Orchestra; James Park, conducting
• Franklin & Marshall College Orchestra; Brian Norcross, conducting
---
Program Notes
The title suggests a speeding train racing through various musical landscapes. The compositional challenge was to maintain musical unity while flowing through these disparate styles.
This work is dedicated to my late sister, Linda Ayers Crumpton, an accomplished pianist, who, as a young teen, filled the home in which we were raised with the sounds of Chopin polonaises and Beethoven sonatas.
---
Other Works for Band