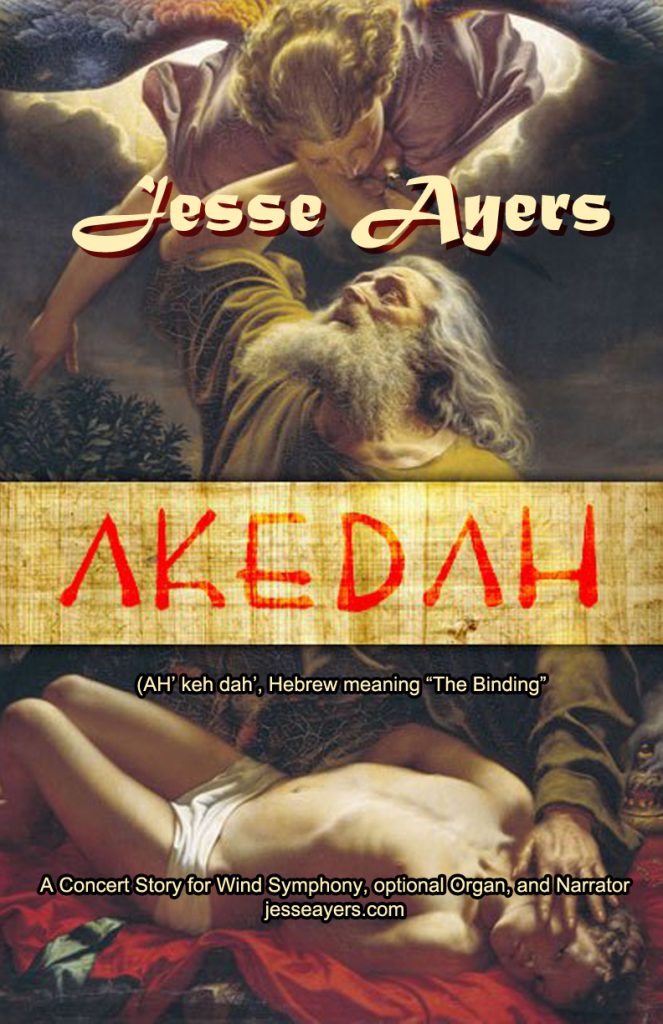 — Band version —
A dramatic concert story of Genesis 22
with narration and audience participation
Commissioned for the Wisconsin Lutheran National Honors Band
(pronounced AH'-keh-dah')
16 minutes. Grade 4.
There is an optional organ part.
SCROLL DOWN FOR RECORDINGS
---
Digital Score & Parts — $120
Instant digital PDF downloads (downloaded from this website)
Pay, print, rehearse. No waiting for delivery.
---
Score only (PDF) — $30
---
Hardcopy Score & Parts — $195

Traditional hardcopy band set, distributed by J.W. Pepper
---
Also available for orchestra
---
Video: excerpt, Brigham Young-Idaho Band
---
Video: Complete work, BYU-Idaho Band
---
Performed by:
The Ohio Northern University Symphony & Malone University Chorale, Travis Jürgens, conducting
The Luther Summer Music Festival Band; Jeffrey Scott Doebler, conducting
Concordia University Irvine Wind Symphony; Jeff Held, conducting
Marietta College Wind Ensemble; Marshall Kimball, conducting
Brigham Young University Idaho; Darrell Brown, conducting
Wisconsin Lutheran Synod National Honors Band; Erin Meissner, conducting
---
Akedah performed at 2018 CFAMC National Composers Conference

---
Program Notes
Akedah is Hebrew, meaning "the binding," and refers to the Genesis 22 account of Abraham's binding of Isaac when God tests Abraham by asking him to offer his son of promise as a burnt offering. As Abraham raises the knife to slay his son, an angel of the Lord stops Abraham, and God provides the substitutionary sacrifice of the ram caught in the thicket, a prefiguring of the substitutionary sacrifice of Jesus Christ on the cross.

Akedah was commissioned by the Wisconsin Evangelical Lutheran Synod Area Lutheran High School Association for the 2013 WELS National Band Festival held at Martin Luther College in New Ulm, Minnesota. In addition to thanking the commissioners for the opportunity to compose this work for their National High School Band, the composer also wishes to acknowledge and thank his former student Kendra Hayes Stickle for her suggestion of the Hebrew word Akedah for the title, as well as thanking family friend Alexandra Gomez-Robbins for her thoughtful consultation on possible titles.
---
Other Works Based on the Old Testament